In this post:
Wikis and Blogs Around School…
Animoto, Grade 2 Art Slide Show
It may be the beginning of the rainy season in the Pacific Northwest, but technology is sprouting at PJA!  PJA teachers are tech trailblazers, diving into tech-integrated lessons and activities.  Model projects are popping up across the school.  Here are a few ideas to inspire you:
Jana has the tech bug, and she decided to flex the power of her new personal macbook.  We worked together in the program Garageband for maybe 15 minutes.  She walked away a pro, ready to record the sweet voices of the 2nd grade class.  We exported the file as an MP3, and she sent it out to all the parents.  What a fun way to deliver New Year greetings. And by the way, you can try this same project or any voice recording project with your students.  PJA has a set of portable digital voice recorders that you can bring into your classroom.  Listen to Jana's cuties:
Wikis are spreading like wildfire.  Mostly, teachers are using the interface to share learning links with students, post homework, and upload documents.  Many teachers have plans to bring their students on the wiki for collaboration and editing, once the students are comfortable with the interface.  Take a look at some of the wiki works in progress at PJA:
4th Grade Wiki:
http://pja4thgrade.wikispaces.com/
6th Grade Wiki:
http://pjahumanities6.wikispaces.com/
6th Grade Technology
http://www.pjatech.wikispaces.com
Teacher Blogs
Teacher blogs are also starting to sprout around the school.  Before you start a blog, think about using our school web site tool, Finalsite.  Finalsite gives you the option of password protecting your page, so that only PJA families can access your stuff.  Russ and Susan are experimenting with the blog tool, WordPress, which is outside of the PJA web site.  These tools also can offer password protection on pages.  Take a look:
7th Grade Humanities
Russ's blog is directed at his students, where they can get tips on writing and keep true to the course expectations.
2nd Grade

http://sightsandsoundsofsecondgrade.wordpress.com/
Susan is using her blog as a powerful school-to-home link.  She is posting daily happenings from her classroom.  She also has a link on her blog to the student blog, where she posts writing and projects created by her 2nd graders.
Elana created a comic strip project based on the memoir assignment, a school memory.  6th graders used the tool Pixton for schools.  The tool is free for the first 30 days, offering students a safe interface that does not collect information upon sign-up (follows COPPA guidelines).  Elana modeled the use of the tool by creating her own comic strip.  Once all the students are finished with the project, they will submit the comics for approval by their teacher.  Here are a few samples (*Note:  Double-click on each image to see a full-size that is easy on the eyes.):
The First Day of School by Mrs. C-R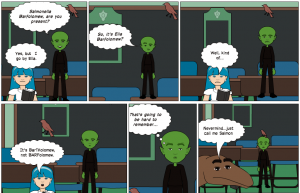 Rocket Science by Will
Hooger What?  By August
 Animoto, Grade 2 Art Slide Show
http://animoto.com/
Animoto is a slideshow tool that allows you to upload still images (jpgs) and then animate the images with music.  The end result is a slide show that can be viewed online.  For more interesting slideshow tools, go to K8Jtechlearn wikispace.  And please do consider cyber safety when using any online tool.
Grade 2 Art Slideshows:  Saddle Blanket & Contour Line
http://animoto.com/play/aQ1vIW8dF7sLJiC06W1Bug
http://animoto.com/play/W4xgF3LRiRvEOhoWr7DpiA
Cool Tech Tools
All "Cool Tech Tools" can be accessed from the PJA Teacher Wiki, K8Jtechlearn. Bookmark this teacher wiki link, as the resources and materials will be constantly growing throughout the year!  You are invited to join this space and add some of your own favorite tools.  I will highlight a few tools with each blog post.
This is a Hebrew flashcard interface from the Legacy Heritage Fund.  You can send the list of Hebrew words to DahBear, and they will upload your list.  Your students can also access flashcard sets put up on the site by others.  If you have used Quizlet, the tool works quite similar.  DahBear has plans to allow users to upload their own lists in the future.
This is a tool that allows you to capture a Youtube video and save it for  later.  This is wonderful for teachers who do not want to rely on the bandwidth speed.  If you experience buffering when viewing Youtube videos, then check out Zamzar.  You can paste the video link from Youtube into the Zamzar tool, select the file format for your video download, and enter an email address.  You will be sent an email message with a link for downloading the video.  The videos should be used for educational purposes and then deleted after use, of course (copyright!).
CNN's Anderson Cooper 360° is airing a special this week on bullying.  A new study conducted and released by AC360° reveals new information about bullying patterns.  The study revealed that patterns of cruelty are directly related to garnering social power and status.  Kids who are already well-liked are most likely to engage in bullying behaviors.  The higher the social ranking, the more likely a student is to bully. And of course, bullying is of tech interest, because tweens and teens use social networking and cell phones to leverage their social standings. The study also revealed that aggressive behavior does not improve social positioning and the behavior is contagious. And what is even more fascinating is that while the Wheatley School in New York is quite affluent (where the study was conducted), the school is a true model for bullying behavior everywhere, as the bullying pattern does not discriminate between socioeconomic classes.   Tune in this week at 5pm Pacific Time to learn more.  A follow-up airing of the original program, "Bullying:  It Stops Here" town hall, will occur on Friday, October 14, 2011, 5pm.

Complete report of the study on bullying at the Wheatley School
findings.from.the.wheatley.school